Back to Events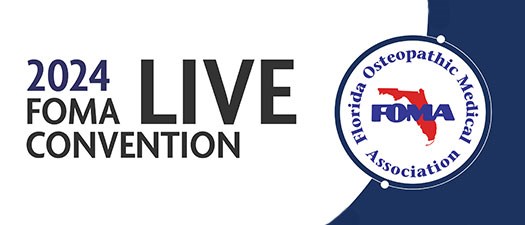 2024 FOMA Live Convention
2024 FOMA LIVE Convention Feb. 16-18th
Up to 27 (AOA) 1-A CMEs
Friday, February 16, 2024
at
8:00 AM (EST)
to Sunday, February 18, 2024 at 12:30 PM (EST)
* Registration open until 2/18/24 at 12:00 AM (EST)
Event Details
What:
2024 FOMA LIVE Convention
Where:
Marriott Ft. Lauderdale Harbor Beach Resort & Spa
3030 Holiday Drive, Ft. Lauderdale, FL 33316
You can book your hotel accommodations directly with the Marriott Fort Lauderdale Harbor Beach Resort & Spa by clicking on the following link:
https://book.passkey.com/event/50600139/owner/4894/home
Space is limited so be sure to contact the hotel by Jan. 22, 2024
(or until block is full) to book your stay.
$365 Single/Double / 1-800-222-6543
When:
Friday, Feb. 16, 8 am - 5:30 pm
Saturday, Feb. 17, 8 am - 5:30 pm
Sunday, Feb. 18, 7:30 am - 12:30 pm
Earn Up to 27 (AOA) 1-A Credits!
The 27 Live Credits Include:
5 Florida Mandatory Credits for Florida Relincensure
6 On-Demand Credits
REGISTRATION IS LIMITED: Register Early to Reserve Your Spot!
REGISTRATION Includes:
3 Continental Breakfasts, Lunch, and Reception.
For More Information:

2544 Blairstone Pines Drive
Tallahassee, Florida 32301
United States
850.878.7364
Please login to your account to receive member pricing!
Click the link below to login: